SICSA Students Win Superior Design Award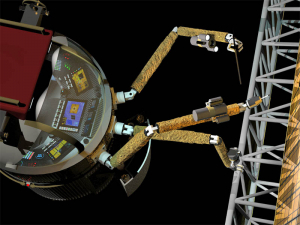 Masters students Brett Montoya and Canaan Martin won the Superior Design Award for their entry in Genesis Engineering's Single Person Spacecraft Interior Design Competition. The competition elicited design proposals for the interior layout of Genesis' next-gen EVA machine. Competitors were tasked with detailing the control elements and layout, internal lighting, air circulation systems, microgravity restraints and the corresponding hardware and technology, all of which were required to be either flight proven or flight-ready within 2 years. The competition's judges included industry professionals from Boeing, SRI International, GES, and NASA, specializing in human factors engineering, mechanical design, and robotics, as well as former astronaut Paul Richards.
NASA Human Factors expert Joe Fittipaldi had this to say about their design:
"[they paid] careful attention to ensuring a common viewpoint across the anthropometric scale. Further, the designer clearly strove to preserve virtually 100% of direct LOS through the clear canopy."
The full press release can be viewed here.